Irish chef Alan Fisher Dethrones Hilda Baci to set a new world record.
The record holder of the longest cooking marathon, Nigerian chef Hilda Baci, has been overthrown by Alan Fisher an Irish restaurant owner. Guinness World Records verified this on Tuesday via their X handle.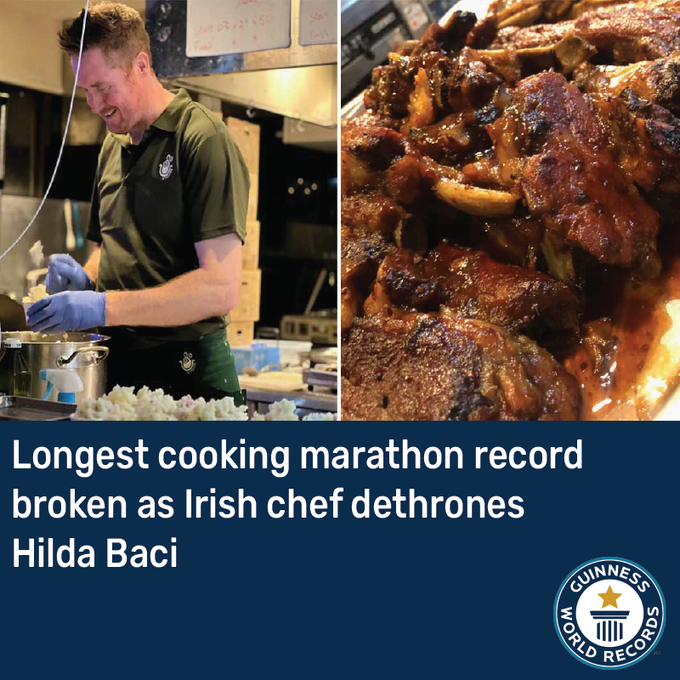 Fisher's time of 119 hours 57 minutes broke the record for the longest cooking marathon completed by an individual.
His achievement surpassed Baci's previous record by over twenty-four hours.
With a time of 47 hours and 21 minutes, Fisher, a chef who runs his restaurant in Japan, also holds the record for the longest baking marathon for an individual.
With a time of 31 hours and 16 minutes, Wendy Sandner (USA) held the previous record.
GWR announced that Nigerian cooking queen Hilda Baci has been dethroned,"
It also said, "Alan Fisher from Ireland cooked for an incredible 119 hours and 57 minutes at his restaurant in Japan,"
What was more impressive is that Alan took on both attempts back to back, meaning he was at work in the kitchen for over 160 hours with just over a day of rest in between."GWR said in a statement regarding the accomplishment.
Hilda Baci in the spirit of sportsmanship took to her X handle to publicly congratulate Chef Alan. She said "Huge congratulations to Alan Fisher! 119hrs 57mins is a huge achievement, and I wish him all the best as the new world record holder!"